2019 Fall Workshops

The application period for Workshops 2019 has ended. If you applied between February 1st and February 8th, an email about your status was sent to you just about a week later. Missed your opportunity to apply? Email Michelle at info@schoolhousepress.com and ask me to check for openings or place you on the waiting list for the session of your choice.
Dates & Description of Workshops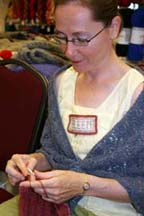 Each year, knitters retreat to a Schoolhouse Press workshop (in Marshfield, WI) focused on discussion of a specific topic, determined by a vote at the previous year's workshop. In 2019, we are running two workshop styled events. The first retreat workshop will be a mini-Knitting Camp with a theme of Island Knitting, with master knitters Meg Swansen and Amy Detjen. Knitters in a second retreat will gather for a "Knitter's Choice" Project Workshop with master knitters Meg Swansen and Amy Detjen.
October 10-13, Fall Mini-Knitting Camp (Theme: Island Knitting): This mini-Knitting Camp will focus upon those islands with distinct circular knitting traditions: the Faroe Islands (both sweaters and shawls), Fair Isle (yokes, as well as all-over patterned dropped-shoulder style, and vests), the Isle of Guernsey (classic Ganseys in a number of styles wth myriad unique attributes), and Iceland with their beautiful yoke styles and wool. We will discuss the construction of these garments - all of which may be extrapolated into Elizabeth Zimmermann's Percentage System (EPS) - and demonstrate the specific techniques associated with them such as short rows, weaving, shaping, two-color knitting, gussets, and steeks. There will be a handout for you to try some of the color-pattern possibilities, as well as a steek-sampler handout, plus an EPS schematic. As always, our knitting workshops are both instructional and conversational; our knitting discussions can go in any direction according to the wishes of our participants. Individual assistance will be available during Friday and Saturday evening.
October 17-20, "Knitter's Choice" Project Workshop: The topic for this retreat was chosen by last year's core group of workshop participants, but the workshop is open to anyone, new or past participant. Each knitter is invited to bring an individual project, partially-completed, or finished sweater, or maybe an idea for a new design. We will discuss your unique plans and your specific questions, ruminating upon the possibilities of various options for that project. Meg and Amy will demonstrate techniques based on individual needs. The workshop will allow participants to get expert advice and feedback through group discussion to design or complete a project. Each knitter should also bring a completed garment for show and tell (Note: Participants from the 2018 workshop should bring the result of their project from the 2018 workshop).
General Information
Workshops are limited to approximately 25 participants (the room accommodates a few more knitters, so sometimes we do as well, with a cap of 30), allowing each knitter ample opportunity to ask questions and receive individual feedback. We have held a variety of workshops with different themes from 2007 to 2018, and we look forward to welcoming a group of knitters in fall of 2018, our 12th year.

The workshops take place at the Holiday Inn Conference Center in Marshfield, Wisconsin where we hold our summer knitting camps. The workshop includes an afternoon visit to the Schoolhouse Press warehouse to shop and explore "The Sweater Room," where all the knitted treasures of Elizabeth Zimmermann and Meg Swansen are stored.
Daily Schedule:

Thursday afternoon/evening (check in after 3 p.m. and 5:30 welcome supper); evening knitting optional
Friday 9 a.m.-3:00 (Class); evening knitting with individual assistance available
Saturday 9 a.m.-12:00 (Class); 2:00-? Visit Schoolhouse Press; evening knitting with individual assistance available
Sunday 9 a.m.-12:00 (Class)
Lodging:

We stay at The Holiday Inn Conference Center in Marshfield, WI with all the amenitites you expect, including fridge and microwave in the rooms, an indoor pool/hot tub, basic workout room, and an attached bar and restaurant. We also have a room for our classes and a separate dining area for our group meals.
Meals:

We include a supper buffet on your arrival night, continental breakfasts on Friday and Saturday as well as a coupon for a free breakfast at The Kitchen Table restaurant owned by Meg's sister Lloie, a hot breakfast on Sunday, and lunches on Friday and Saturday, in addition to coffee, tea, and snacks during our breaks. Non-knitting companions may join us for the Thursday supper buffet.
Transportation:

By air: Madison, WI, Minneapolis, MN, Milwaukee, WI, or Chicago, IL airports all have feeder lines to Central Wisconsin Airport (CWA, phone:715-693-2147) in Mosinee/Wausau, WI (35 miles east of Marshfield). A van shuttle service from CWA to the hotel is available through the Holiday Inn; the cost varies, call the hotel for information (Holiday Inn Marshfield, 715-486-1500 and press 4 for the front desk). Or you can rent a car at either CWA or a major airport (Madison, approx drive time: 2.5 hrs, Milwaukee, WI approx drive time: 4 hours, Mpls, MN, approx drive time: 3 hrs, Chicago, IL approx drive time: 5.5 hours, CWA approx drive time: 35 minutes)
Workshop Fee 2019

Fee includes lodging, most meals, and tuition. Transportation is not included.

Single ($1150)
Double w/knitting workshop roommate ($995)
Double with a non-knitting companion ($1175)
Off-campus ($835)

Questions? Call us at (715) 884-2799 or send us an email.