Designing and Knitting: Preparing for a Long Winter
Although here in northern climes we now still luxuriate in lovely late summer weather, we know what is coming. As shown in these photos from last year, the little Maple Island can shift from photo A to photo B overnight.
A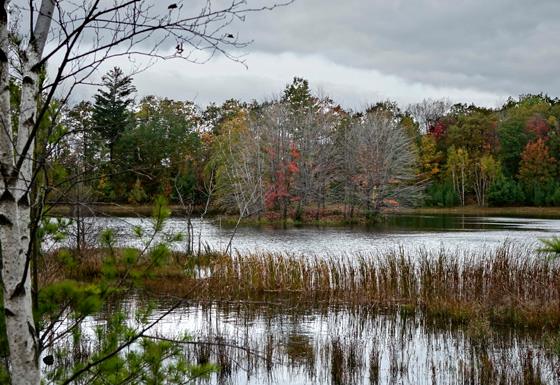 B
As we knitters let our minds wander over winter knitting possibilities, we can anticipate longer periods of time in our knitting chair, enabling us to choose larger projects or things that are more complex and exacting; garments that can take greater preparation, more time and concentration.
New knitters may find satisfaction in calculating the numbers for a simple, comfortable, and perfectly fitting Weekend Sweater (new SPP#67, see below). Perhaps experienced knitters will be drawn to a richly textured Aran or Twisted Stitch design, or maybe an intricate all-over pattern using multiple colors of wool. The two latter disciplines require more extensive swatching to assure precise use of color, plus accurate knowledge of your gauge to result in a proper fit for the recipient. Occasionally the swatching, pattern placements, and size calculations may take as long as knitting the actual garment...but here comes winter...we have time.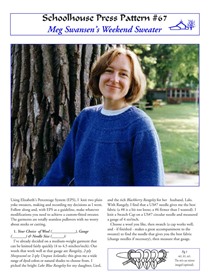 If you are new to planning your own garment from scratch, my Weekend Sweater Schoolhouse Press Pattern (SPP67) is a great introduction. I lead you step by step through EPS (Elizabeth's Percentage System) as you plan a classic seamless yoke sweater. Apply your gauge to EPS and get a perfectly fitting, handsome garment, customized with your choice of lower edge, cuff and neck treatment.
Just arrived, we have additional help for these more involved prospects, in the form of two new books.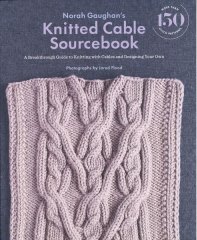 For many years I have followed the imaginative designs of this author. To me her cabled garments in particular, always leaped off magazine pages as the obvious work of Norah Gaughan. I thought of her as the queen of cables - and now she has gathered together 150 of them - each with photo, chart, and verbal instructions - as well as 15 of her imaginative designs for pullovers and hats, plus a cardigan, skirt, afghan, poncho, vest, scarf, and wrap, in her new book, Norah Gaughan's Knitted Cable Sourcebook.
On the other hand, if you find yourself leaning toward the rhythmic pleasure of two-color knitting, Janine Bajus will happily sit at your elbow and guide you through her proven method of swatching in order to find the perfect color-combinations for an elaborate all over patterned garment. Her brand new book, The Joy of Color, is tantamont to taking one of her sought-after classes. You begin with a favorite painting or photograph for inspiration (as it might be Maple Island, above), analyze and select all the colors therein, and let the swatching begin. With over 220 shades of Shetland wool available, you will be able to duplicate most colors. For further inspiration, Janine shows us some glorious finished garments from a number of her students.
Meg on Designing:
Over the years, knitters have asked me to share my approach to designing. It is difficult to pin down my mental processes when beginning a new design. There are so many thoughts swirling about, plus the usual overlapping digressions, and tangential ideas soaring off into space.
Meg uses the Schoolhouse Press Knitter's Journal to plan, track ideas and technique as she knits, and to make notes after she completes a project.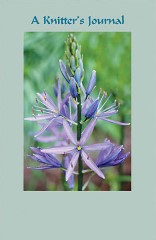 If it is a traditional color-pattern I want, my books of charts get pulled from their shelves. If a texture pattern, I turn to books on that subject. If I imagine a picture-knit (like the Weeping Sun and Moon, SPP18) or an original chart, I take to the computer. Once I have a rough idea of the decoration to be knitted, I then decide upon the general construction style - usually between a seamless yoke, a modified dropped-shoulder, or a vest...then, is it a cardigan or pullover?
Next, my gauge (measured over pattern) must be determined. In the past, Joyce Williams and I revealed our preference for determining gauge. It isn't pretty - but it is certainly Knitter's Choice: we would rather make a rough guess about posible gauge and begin a sleeve -- or even provisionally cast-on the estimated 300+ sts and begin the body. Each of us perferred to rip out the body and begin again, rather than knit a small swatch.
This cavalier attitude does not apply to a complex Fair Isle design with 7 to 9+ shades of wool, or an all-over texture pattern.
Colors of wool pulled from the wool bins may look wonderful lying together on a table, but when used - one with another - the colors are liable to change and the combination may be a failure. Swatching is critical (see Janine's book)
Cables and textures are also quixotic and 'take in' at different rates. A blocked swatch is the only way to assure a properly fitting sweater; I like to test texture stitches in the form of a swatch cap or two.
So, with knowledge (or an estimate) of my gauge, and the body circumference at the widest point, I can now calculate the numbers. In other words, basic EPS (Elizabeth's Percentage System). You can find EPS (and so much more) in the expanded edition of Elizabeth Zimmermann's Knitting Workshop. In the expanded edition of the book, we retained Elizabeth's original text and added columns on each page filled with annotations, tips, techniques, and images, plus much more.
To place the selected color or texture patterns, I draw an oval and put boxes around it, representing each of the motifs and the number of stitches they employ. After they are all added up, I note how many sts are leftover, and fill in between the major motifs. For instance, this shows my layout for EZ's original 1957 Aran sweater published in Vogue Pattern Book. There were only 2 main patterns; diamonds (6 of them) and fishbone cables (12 of them); the rest of the sts were fillers.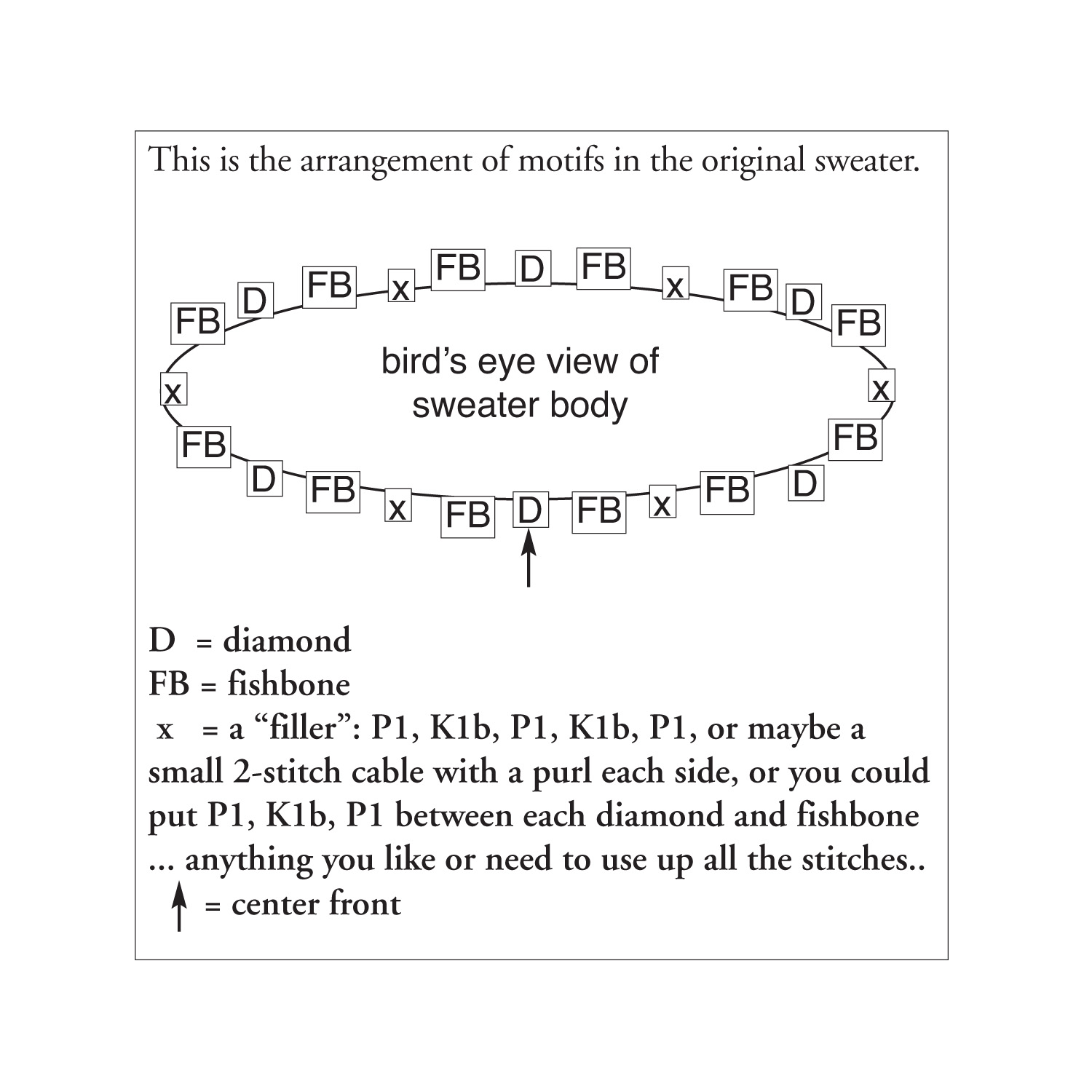 For a color pattern, I do approximately the same thing. I can juggle the number of stitches a bit to accomodate an exact number of repeats around a sweater, but with large-repeat motifs (the 60-stitch Russian Prime, or even a 32-stitch Fair Isle OXO), it is likely you do not have an exact multiple of body stitches. In that case, for a pullover, center one of the motifs exactly at centers-front and -back and let the partial motifs fall where they may at the side 'seam'. Depending upon how I feel, I may add a totally different pattern to form a narrow band at each side -- or keep just a single stitch separating the front from the back -- or nothing and let the last motif stitch, which falls on the seam stitch, be shared by both front and back as I mirror-image the motif in the opposite direction. Most beautiful Rorschach patterns may result from those last two choices.
If it is to be a cardigan, I allow extra stitches for a center front steek; make sure the motif is centered on the middle-back stitch, and that it begins and ends exactly balanced each side of the center-front. If the color-pattern is going to meet at the shoulders, I also must establish a mirror-image at each side.
So, with this rudimentary information, I cast on.
Now the fun begins, and I am able to make additional decisions as I knit...it is the physical knitting in my hands that causes my brain to function and new ideas to flow. I always am open to these flashes of inspiration - planning is essential, but remember that you are in charge and nothing is carved in stone.
Good knitting,
Meg
P.S. If, in the middle of your winter knitting, you wish to slowly wend your way down the magnificent Oregon coast - knitting as you go - you can join me and Chris as we do just that by watching streaming video and following the Schoolhouse Press Pattern as I knit a Faroe Island Sweater from beginning to end. The pattern uses typical Faroese motifs, actually three of them because I was unable to pick just one. It has a faintly Modified drop-shoulder, side shaping in pattern, and a unique I-Cord neck trim.