Meg demonstrates knitting with Plötulopi/Unspun Icelandic and breaking a full bun into wheels. See Plötulopi/Unspun Icelandic wool on our site, including ten new colors.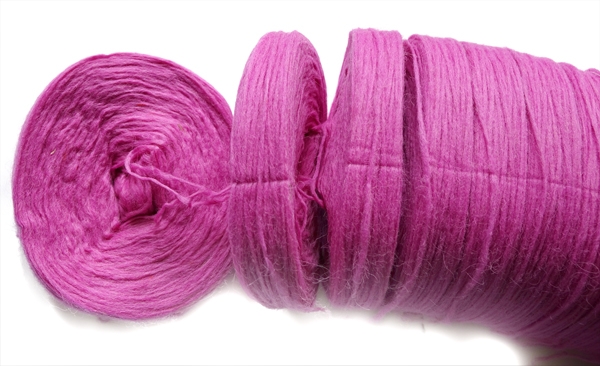 Dear Knitter, I love to knit with Unspun Icelandic wool. That may partly be from my original, beguiling association with that astonishing country when I was a teenager – but mostly because of its extraordinary versatility. We have been supplying this wool to American knitters for over fifty (yes, 50!) years.

My version of a Swedish Dubbelmössa is knitted in single-strand Unspun Icelandic @ a gauge of 7.5 sts to 1". And I have made several lace shawls @ a gauge of about 2 sts per inch. Single-strand sweaters knitted in this unique, lofty wool weigh hardly anything, yet are surprisingly snug and warm.
Graduating to 2-ply is easy: take a strand fom the inside and one from the outside of a single wheel. Now you can knit a classic Icelandic yoke sweater, mittens, or caps. Work a 2-ply jacket with an all-over stranded pattern, and it becomes a coat.
I have used 3-strands together for a Tomten Jacket, and for a thick yet light-weight blanket.
Uniting 4 strands at once makes a Super Blanket. And, following the original Baby Surprise Jacket instructions while knitting with 4-ply Unspun Icelandic yields a size for a slim adult. (I eliminated the diaper shaping! and the sleeves required considerable lengthening).
Also - with so many natural shades as well as dyed colors available, shading and blending different colored strands together is irresistible.
Full '18-wheeler' bundles take time to separate (as demonstrated in the video), but why not gang up with other knitters for a bun-busting party, and share the wheels?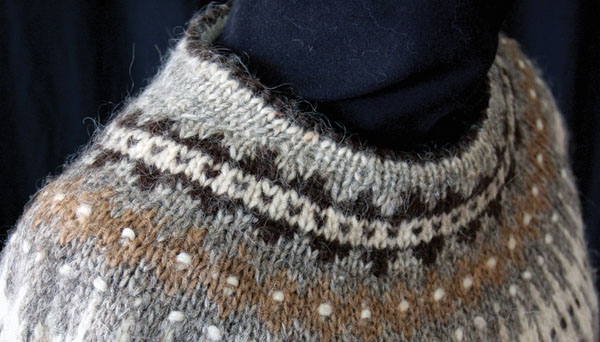 Some of my designs that use this wool include:
SPP#73, 70, 62, 60, 57, 56, 52, 47, 42, 39, 20, 4
Wool Gathering #95, 93, 85, 83, 71
Plus several designs in the books, Armenian Knitting, and Handknitting with Meg Swansen
Now I'll answer some questions from knitters relating to lcelandic wool

Q1: I'm going to attempt the #2 hat from SPP #56....using two strands of blacksheep and one strand of rainbow.
I can't find a recommendation for needle size. I want a hat that's about 22". I understand the suggestion of varying needle sizes for varying size hats...but I don't now where to start.
It appears that people have used a number 10 needle for single ply. What needle size would you recommend for the double ply? My knitting is a very average tension.
Thank you for any help you can give me. Bill

A1: Dear Bill,

Since knitters are so varied, we are loathe to give needle sizes (rather we recommend gauge) -- but I can suggest a range for you.

I am a loose knitter and used a US #6.
An average knitter may want a #7 or #8 - and a tight knitter size #8 to #10.

As an example of how needle size can drastically change gauge: Knitting in single strand Unspun Icelandic, I used a US #3 when knitting the Swedish Dubbelmössa @ 7.5 sts per inch, and when turning a lace doily into a full-sized shawl @ about 2.5 to 3 sts per inch, I used a #10.

I hope this helps to give you a starting place.

Q2a: Before I push my heavily laden shopping cart through the door, I'd like to ask your advice.
I'd like to knit a RibWarmer in the Unspun Lopi……would this be suitable? I knitted a beautiful shawl with it one time and loved the wool. Approximately how much should I need for a woman's 40" circumference short length?

A2a: I have knitted about 5 Ribwarmers - and they are all in 2-ply Unspun Icelandic wool (take one strand from the outside and one from the inside of the wheel). You will need about 4 wheels - and may get it in 3 if you make it short. The wool is So lightweight, yet So warm…perfect for this design.

Q2b: Do you think I'd be better served to buy the DVD on the RibWarmer or an update of Knitting Workshop? Or Both? :)

A2b: The instructions in the original Knitting Workshop are for EZ's seamed version, and work well. The updated Knitting Workshop now includes the seamless version. Our most complete written instructions are probably in SPP#42. The DVD has the advantage of containing video of all the techniques needed.

Q2c: I am also interested in the book Knitting With Icelandic Wool, but do not expect to do yoke sweaters…..and it sounds as if that is the primary focus of the book. Are there many other patterns such as shawls? Is there any discussion of the country or history of knitting in Iceland?

A2c: Knitting With Icelandic Wool is predominantly yoke sweaters, but there are also quite a variety of mittens, socks, hats, dresses, scarves, leggings, and some lace. There are a dozen pages of old photos and "The Origins of Icelandic knitting", followed by 4 pages of "The Wool Industry in Iceland".

Q3: Hello!
My local yarn store has ordered some unspun Lopi from you and I am anxiously awaiting its arrival. I do have one question, what is the preferred method of blocking a finished item made of this yarn?

Thanks for any help you can give.
Cindy

A3: Dear Cindy,

I block Unspun Icelandic as I do any other wool -- the only difference is that I wash the item in the sink and never in the machine (I DO wash all our other wools in the machine; on gentle cycle).

And no pins, unless you are blocking out a lace edging…

Other that that -- have a Good Knit! Meg

Q4: A while back I purchased enough unspun Icelandic to knit the Pi are Square Shawl from Knitting Around. I have never made it though because I really want to make the pretty lacy version Meg is modeling on p. 114, also shown close-up on p. 117, but I did not know which of Barbara Walker's lace patterns were used for it?
I made the round shawl with unspun Icelandic and it turned out beautifully. I use it all the time in winter and my children use it as a blanket while resting on the couch even in summer. It is nice and light but also warm.

Thanks for all your great products and teaching. Elizabeth was a genius and it is so wonderful to see her family continuing her work with such brilliance.

Regards,

Karen

A4: Thank you for your kind words, dear Karen.

Yes, the single-strand Unspun icelandic is SO warm and lightweight; my favorite wool.

The lace patterns I used on my version of the Pie R Square shawl are Little Leaf Stripe on page 196 of Barbara Walker's A Treasury of Knitting Patterns (the first one). And Little Parachute on age 157 of Charted Knitting Designs, A Third Treasury of Knitting Patterns.

Beware - both motifs are shown on a Stocking stitch background and I have altered them to Garter stitch (by knitting back instead of purling) to make the shawl reversible. The Garter stitch texture somewhat obscures the motif, so when doing this sort of transition, try it on a swatch first to see if you like it.

Knit on! Meg

Q5: I have my two pieces knit for the rib warmer. Remember me and the eggplant yarn? Now I wonder what I should use to sew them together since the unspun yarn doesn't work.
With thanks,
Martha

A5: Dear Martha,

The Unspun Icelandic can be made to be as strong as a commercially spun wool, as follows:

Thread the sewing-up needle with a length of Unspun wool. Gently pull it through the knitting where you want to begin to sew. Now - with it anchored, twist the sewing needle between your thumb and fingers in one direction. The more twist you add, the stronger the strand becomes (however, if you twist too much, the wool will double back upon itself).
Begin to sew the seam.
After sewing 5 or 6 inches, the wool might gradually untwist; if that happens, give it a few more twiddles and continue.

Congratulations on your finished RibWarmer!

Q6: I am thinking of doing this shawl, using either the Icelandic Lace or the 1-ply un-spun Icelandic yarn. Can you tell me the difference in these two yarns, the knitting-up of each, and the general ease of knitting with either. Also, I see that the un-spun is in wheels. Does the yarn still come from the center, or do I have to re-wind. (I have never used yarns in a wheel, as you can tell.)

I will be adding lace patterns as Meg did in hers (Knitting Around, pg 110-117). Do you have any lace pattern books that would give me some ideas for this?

Thanks so much for you help. I have so enjoyed the Video that I bought for this book. So much inspiration.

A6: Dear Suzanne,

The Unspun wool produces a fabric with a halo about it; the untwisted fibers are loose to extend beyond the surface.
The strand you knit with may be taken from the center, or from the outside of the wheel (or used together for a 2-ply garment). You may also first re-wind the wheel into a ball, if you are more comfortable with that (it is good idea, if traveling).
The Laceweight is a single strand of the above - spun. It feels coarser as you knit, but washes beautifully and "blooms" upon first washing.
Perhaps the Laceweight is easier to knit with, as it is a standard, spun commercial wool - but I find one becomes quickly adjusted to the Unspun.
When seeking a lace motif, I invariably turn to Barbara Walker's Treasuries; and remember that you can convert a Stocking stitch based design into a reversible Garter stitch one by knitting back on e.o.r (instead of purling); however, a Garter stitch base may obliterate a delicate lace motif, so swatch first.

Good Knitting, Meg

Q7: I have read that ripping this yarn back is difficult and I'm hesitant to waste any.... :)

A7: Yes, tricky to rip - but not impossible, just be patient as you have to un-do each stitch gently.

Q8: Which of your wool yarns is closest to the old White Buffalo Yarn for knitting Cowichan sweaters?
White buffalo was 6 ply - is Unspun Icelandic separated into a ply? or is it truly 'unspun' - I am not a spinner - but a knitter -
thanks for your advice
Marylou

A8: Yes, Marylou, the Unspun Icelandic is in roving form, but - because the staple of wool from this rare breed of sheep is so unusually long, it is totally knittable in that mode. No need to spin. Once knitted up, it is very strong.

To 'make' 6-ply, you could put 3 wheels next to each other; take the center-strand plus the outside strand from each wheel and wind a 6-ply ball. Actually, I love doing that! it is a very strange sight.
Or, if that seems too awkward, you can wind 4-ply from 2 wheels, then add 2 more strands and re-wind to 6-ply.

Knit On! Meg