2017 Advanced Knitting Techniques Workshop
October 12-15, 2017

The 2017 Advanced Knitting Techniques Workshop is full. Please email info@schoolhousepress.com to add your name to the waiting list. (Note: We also run four summer knitting camps. Click to Go to Knitting Camp!)

Workshop Description: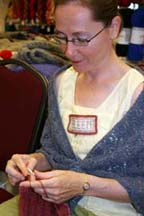 Each year, knitters retreat to a Schoolhouse Press workshop focused on discussion of a specific topic, determined by a vote at the previous year's workshop. In 2017, knitters will gather to learn about advanced knitting techniques with master knitters Meg Swansen and Amy Detjen.
The 2017 Fall workshop will concentrate on assorted Advanced Techniques in Knitting, including Entrelac, Armenian Knitting, Double Knitting, Brioche in the Round, Cables, Twisted Stitch, and perhaps even Twined Knitting. There will be garments knitted in each discipline to peruse, and Meg or Amy will demonstrate each technique. Knitters need to bring several swatches on which to practice the stitches as they are being described. For each demonstration a handout will be provided, which can be studied and used at leisure after the workshop.

Schoolhouse Press workshops are based on a combination of instruction, participant discussion, question and answer, and optional show and tell. As always, the workshop will wend its way through the topics, and meander into other knitting-related conversation.

Please read General Workshop information below.
Workshops are limited to approximately 25 participants (the room accommodates a few more knitters, so sometimes we do as well, with a cap of 30), allowing each knitter ample opportunity to ask questions and receive individual feedback. We held a variety of workshops with different themes from 2007 to 2016, and we look forward to welcoming a group of knitters in fall of 2017, our 11th year.

The workshops take place at the Holiday Inn Conference Center in Marshfield, Wisconsin where we hold our summer knitting camps. The workshop includes an afternoon visit to the Schoolhouse Press warehouse to shop and explore "The Sweater Room," where all the knitted treasures of Elizabeth Zimmermann and Meg Swansen are stored.
Daily Schedule:

Thursday afternoon/evening (check in after 3 p.m. and 5:30 welcome supper); evening knitting optional

Friday 9 a.m.-3:00 (Class); evening knitting with individual assistance available
Saturday 9 a.m.-12:00 (Class); 2:00-? Visit Schoolhouse Press; evening knitting with individual assistance available
Sunday 9 a.m.-12:00 (Class)
Lodging:

We stay at The Holiday Inn Conference Center in Marshfield, WI with all the amenitites you expect, including fridge and microwave in the rooms, an indoor pool/hot tub, basic workout room, and an attached bar and restaurant. We also have a room for our classes and a separate dining area for our group meals.
Meals:

We include a supper buffet on your arrival night, continental breakfasts on Friday and Saturday as well as a coupon for a free breakfast at The Kitchen Table restaurant owned by Meg's sister Lloie, a hot breakfast on Sunday, and lunches on Friday and Saturday, in addition to coffee, tea, and snacks during our breaks. Non-knitting companions may join us for the Thursday supper buffet.
Transportation:

By air: Madison, WI, Minneapolis, MN, Milwaukee, WI, or Chicago, IL airports all have feeder lines to Central Wisconsin Airport (CWA, phone:715-693-2147) in Mosinee/Wausau, WI (35 miles east of Marshfield). A van shuttle service from CWA to the hotel is available through the Holiday Inn; the cost varies, call the hotel for information (Holiday Inn Marshfield, 715-486-1500 and press 4 for the front desk). Or you can rent a car at either CWA or a major airport (Madison, approx drive time: 2.5 hrs, Milwaukee, WI approx drive time: 4 hours, Mpls, MN, approx drive time: 3 hrs, Chicago, IL approx drive time: 5.5 hours, CWA approx drive time: 35 minutes)
Workshop Fee (2017)

Fee includes lodging, most meals, and tuition. Transportation is not included.

Single ($1080)
Double w/knitting workshop roommate ($970)
Double with a non-knitting companion ($1100)
Off-campus ($825)

Questions? Call us at (715) 884-2799 or send us an email.