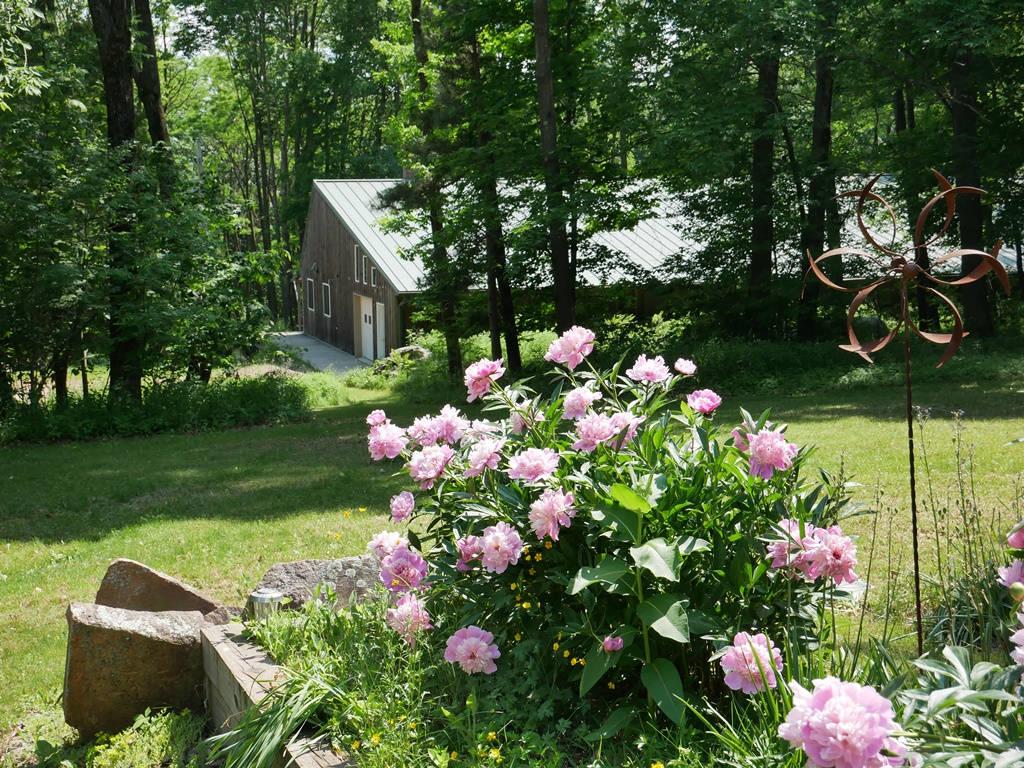 The Schoolhouse garden and the Schoolhouse Press warehouse and offices, June 2021
Schoolhouse Press is a publisher of knitting books, patterns, and videos, the home of Knitting Camp, and a wool and hand-knitting supply business founded in the mid-1950s by British-born knitter Elizabeth Zimmermann. Elizabeth's philosophy of self-confidence and discovery has been carried forward by her daughter Meg Swansen, an internationally known designer, author, and teacher. Today, Schoolhouse Press remains a family-run company committed to celebrating Elizabeth and Meg's innovative hand-knitting style. We invite you to explore what we have to offer; we're here to help you knit on! (Garden image by Eli Swansen)
Schoolhouse Press history, staff, and fun facts
Elizabeth Zimmermann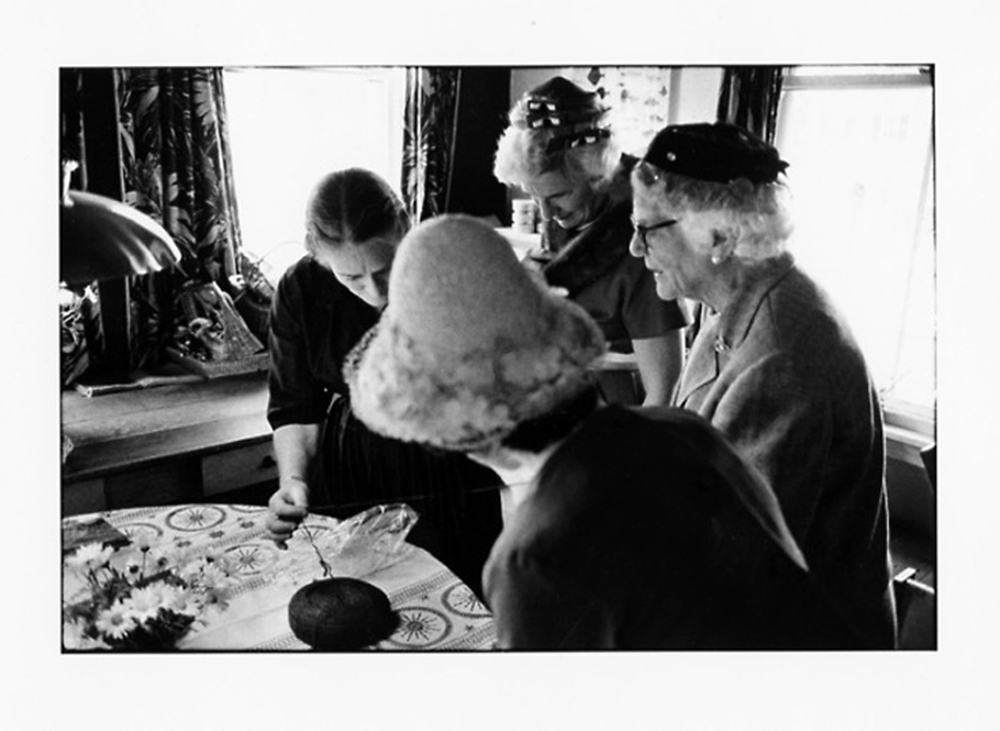 In the 1950s, Elizabeth Zimmermann began the business Elizabeth Zimmermann LTD to supply hand-knitters with pure wool and circular needles (both a rarity in those days), as well as books, tools, and original designs. Elizabeth's humor and unique approach to seamless garment construction gradually attracted followers through her semi-annual newsletter, a steady stream of designs in magazines, two television series taped for PBS-TV, the annual summer Knitting Camp (the first), and publication of her books. Elizabeth's philosophy was received with glad cries by knitters who were eager to think for themselves. By using Elizabeth's Percentage System (EPS), knitters were able to achieve perfectly-fitted garments while applying their own ideas to their knitting. Elizabeth is known for her technique innovations, including in I-cord (previously known as idiot-cord, until Elizabeth shortened its name for obvious reasons). Elizabeth is pictured above demonstrating how to use Icelandic unspun wheels during Meg's 1964 wedding at Elizabeth and Arnold's home in Shorewood, WI. Others pictured are Chris Swansen's sister-in-law, grandmother, and mother. (Wedding image by Thomas Zimmermann)
Fun Fact: Elizabeth was known to knit while cruising on the back of her husband Arnold's motorcyle. With the help of a local police officer, they even staged and filmed a traffic stop for Knitting without a License. The footage is available in EZ's video, Knitting Around.
Meg Swansen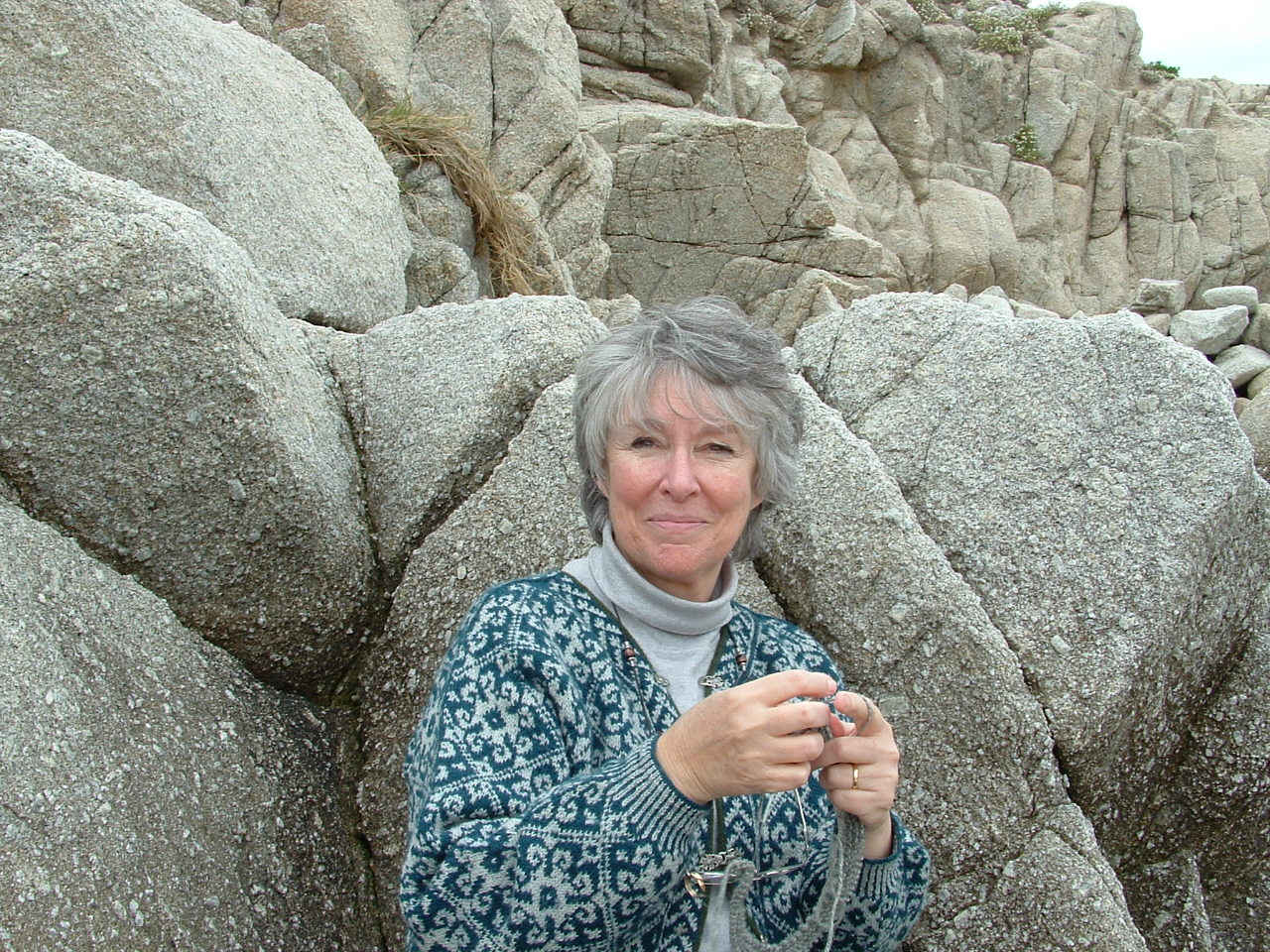 In 1965 Meg joined her mother in business, and in 1981 with Meg's husband Chris, Schoolhouse Press began to publish knitting books and produce instructional knitting videos for both television and home use. Schoolhouse Press was named when Meg's branch of the business merged with Elizabeth Zimmermann LTD. Both Elizabeth and Meg lived in renovated schoolhouses in Wisconsin. Meg's schoolhouse home became the headquarters of the business. Meg runs the business today and heads up our annual Knitting Camp. She writes regularly for Vogue Knitting and continues to design and publish, as well as to teach around the U.S. and abroad. Meg is particularly known for her technique inventions (such as the jogless jog in color-pattern knitting) and her extensive knowledge of knitting which she passes along through videos, at Knitting Camp each summer, and over the phone to those who query Schoolhouse Press. Customers of Schoolhouse Press are often surprised to hear Meg's voice on the other end of the line and to receive expert technical advice directly from her. (Image credit: Swansen family)
Fun Fact: During her twenties, Meg was a switchboard operator at a rehearsal for the Oscars, which included delivering messages to Frank Sinatra and Sophia Loren. At one point, a woman came up behind her and demanded, "Get me Irving Berlin in Palm Springs!" The woman was actress Ethel Merman.
Cully Swansen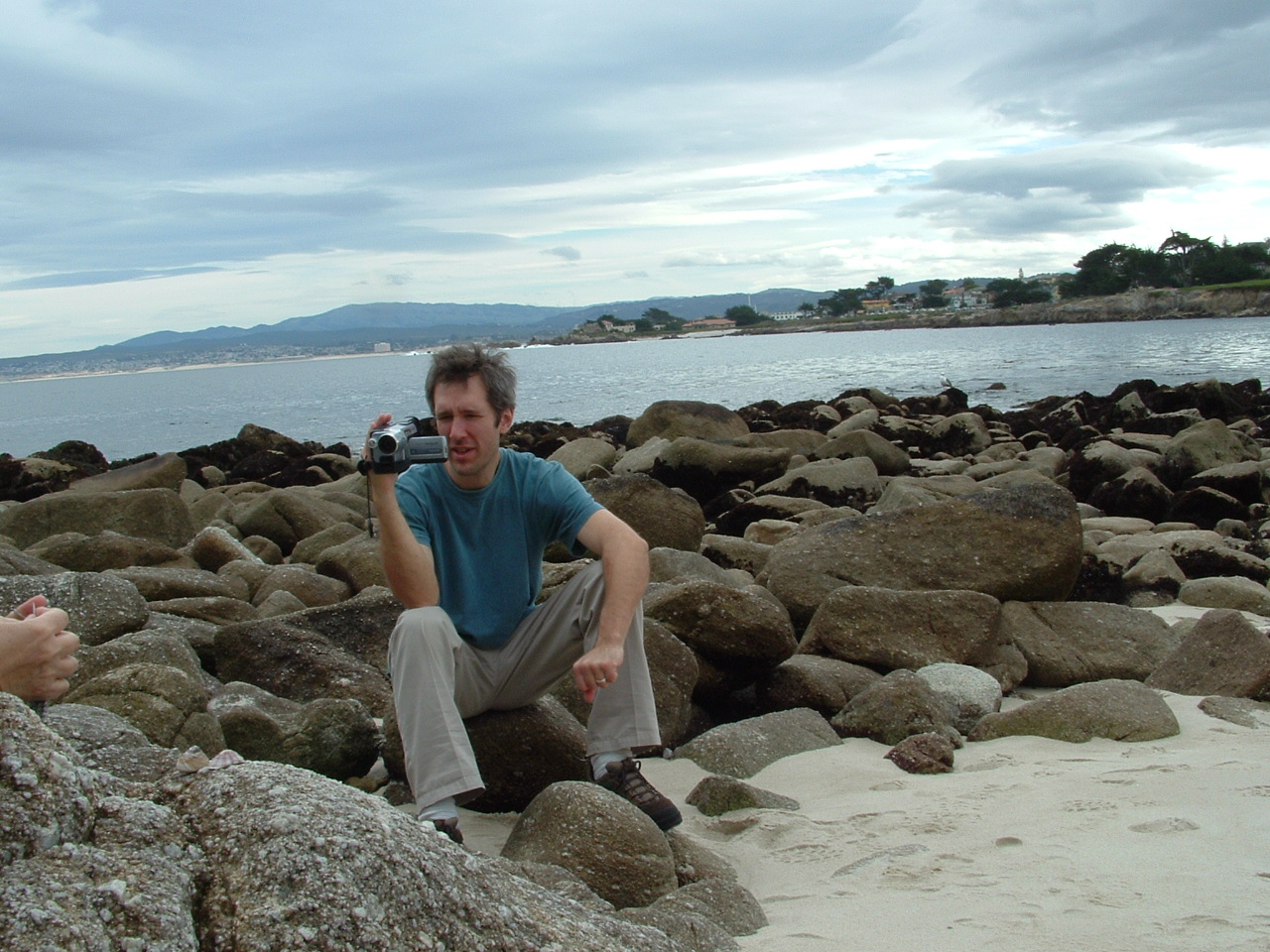 Cully, Meg's son, began pitching in when he and his wife Michelle moved back to Wisconsin in 1999, literally unloading crates of books and doing most of the heavy lifting. Cully's vision led us to build a modest warehouse/office space in 2006 and move just down the hill from Meg's schoolhouse (our former office). Cully began managing the day-to-day operations and helping with the packing and shipping, but his role expanded quickly to include filming and editing instructional video. Filming piqued an already budding curiosity about knitting construction, and Cully began designing, editing, and writing, as well as publishing Schoolhouse Press patterns and books.
In 2016, Cully wrote his own book, The Complete Surprise: Knitting Elizabeth Zimmermann's Surprise Jacket, an expansion of the innovative design his grandmother created for him before he was born. A companion product designed by Cully, the EZ Knitting Calculator for Surprise Jackets, calculates row by row instructions for any size baby or adult surprise jacket based on a knitter's custom dimensions and gauge. In addition to working on creative projects and handling the day-to-day work of a small business, Cully corresponds with knitters frequently to answer technical knitting questions and teaches at Knitting Camp and elsewhere. (Image credit: Swansen family)
Fun Fact: Cully is a double bassist and plays jazz regularly at venues around the Midwest. He has produced a number of CDs, including Watercolors of Brazil with his father, Chris Swansen. Cully has performed with a number of greats in the music industry.
Michelle Wolfe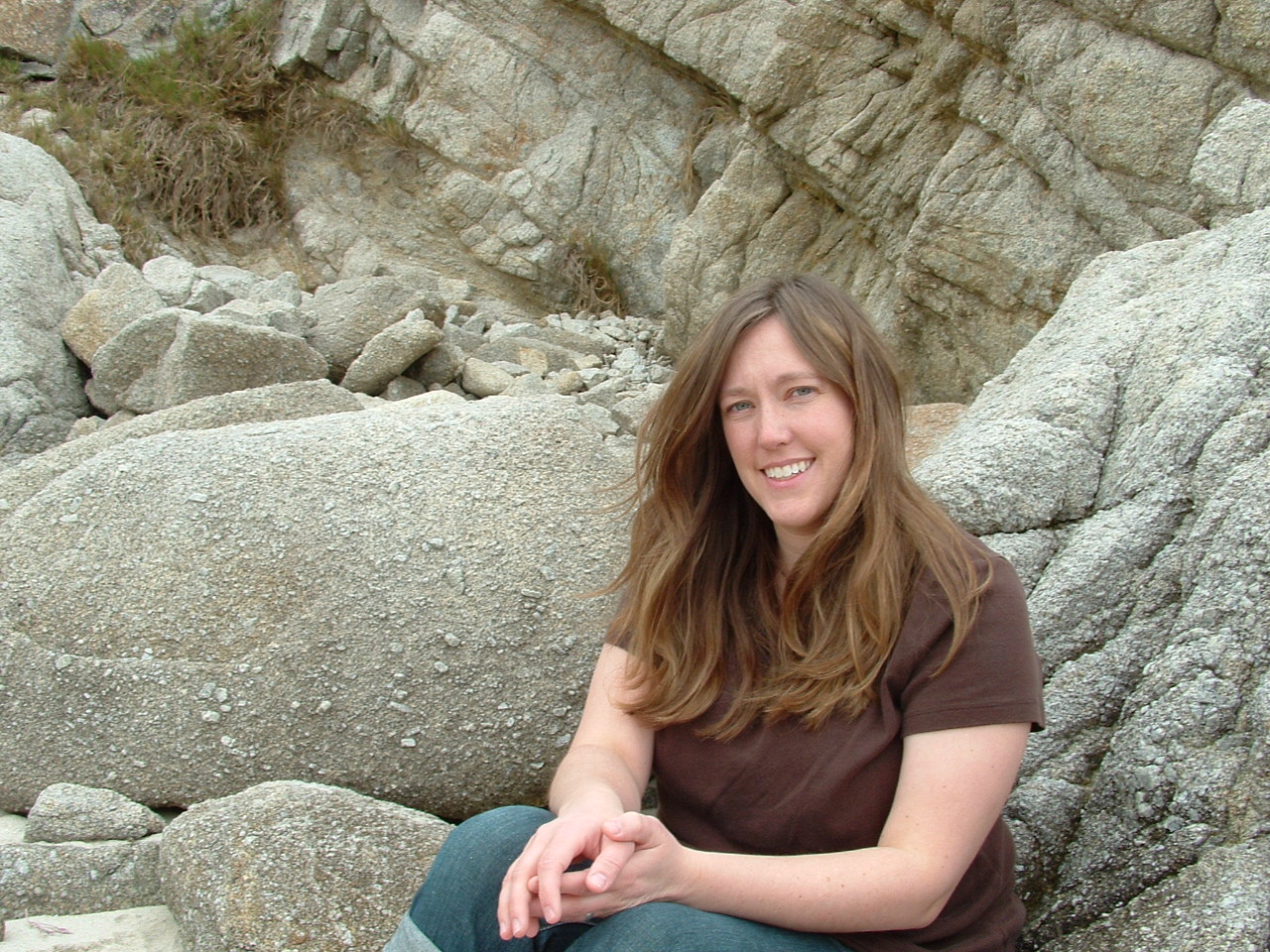 In 1999, Michelle, Meg's daughter-in-law, joined the Schoolhouse Press team. Though she considered herself temporary help because she was not a knitter, she remained with the company and even learned to knit. Her role has expanded through the years to include business organization, web management, product development, publishing, and Knitting Camp and workshop administration. While working at Schoolhouse Press, Michelle also taught for seven years as a lecturer at the University of Wisconsin - Stevens Point. Her career has included a number of jobs in marketing and writing as well. (Image credit: Swansen family)
Fun Fact: Michelle's first job after college, working as a marketing assistant for a Lake Superior kayak outfitter, gave her the opportunity to spend a month in Russia one summer. She spent weeks paddling the world's deepest lake, Lake Baikal in Siberia, and several days crossing the country on the Trans-Siberian railroad.
Eli Swansen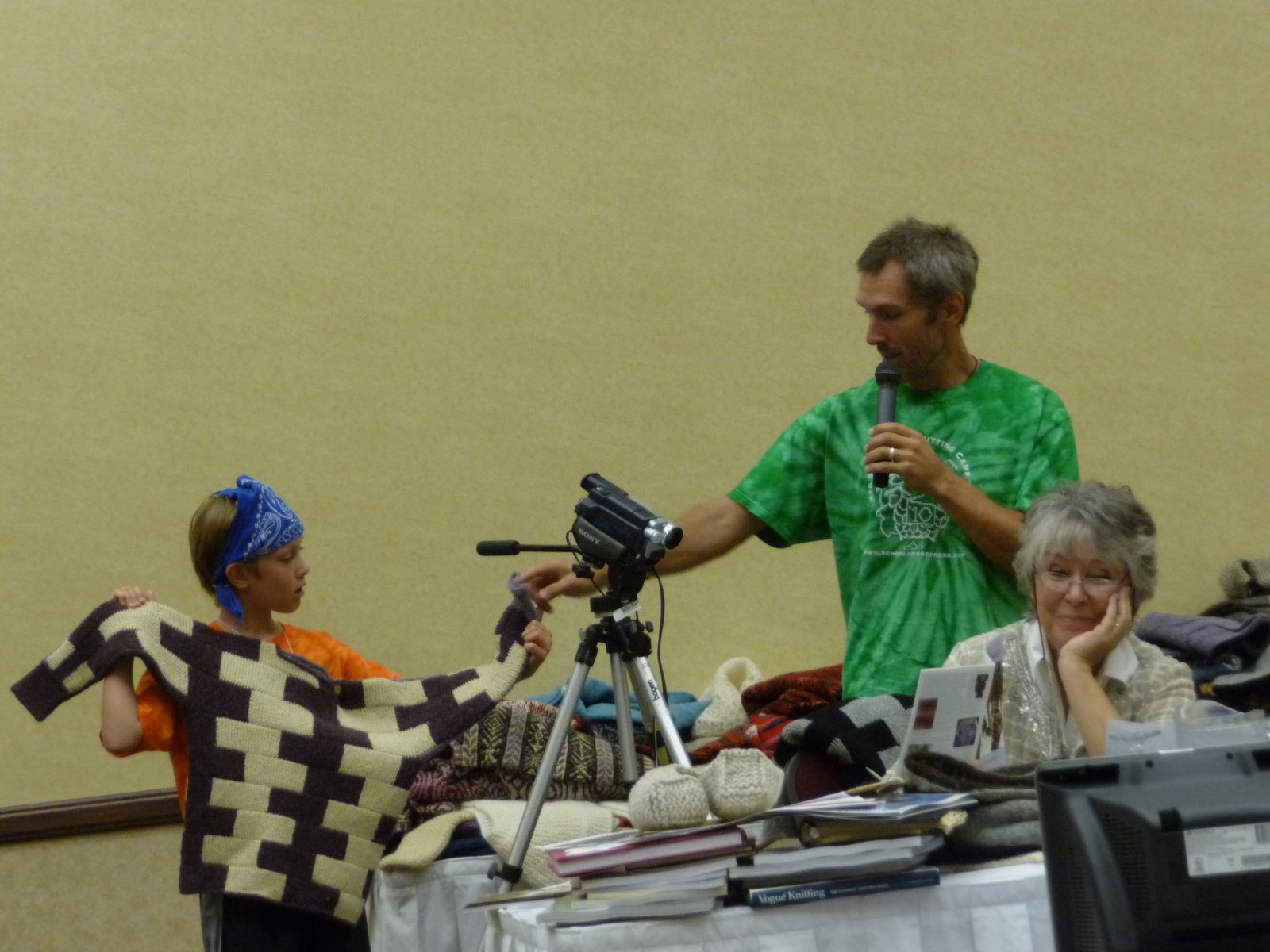 Eli has been a Schoolhouse Press and Knitting Camp helper from an early age. He once remarked, "I bet I'm the only kid to grow up at Knitting Camp." Loading and unloading the Penske with goods for the event, setting up the classroom and market, selling raffle tickets, delivering prizes to winners, helping to run the camera, and finding wool for knitters back at the warehouse were his summer activities, along with a good dose of swimming in the hotel pool, eating lots of delicious catered lunches, and skateboarding and disc golfing in the big, open warehouse. Eli's knowledge of the business grew by osmosis. Now a junior in college at The University of Minnesota in Minneapolis, we're happy to have his help when he touches down at home. During the summer of 2019 when major storms knocked out electricity in our area for four days in the middle of Knitting Camp, Eli searched the warehouse by flashlight to help fill orders, pitching in as always to do what it takes (second image above by Michelle Wolfe). First image taken by James Nacy, knitting camper.
Fun Fact: Eli is a professional disc golfer and member of the PDGA. His tournament travels in 2021 have taken him all around the Midwest and to College Disc Golf Nationals in Asheville, North Carolina, where he placed 9th in individual competetion.
A grainy throwback group selfie of the Schoolhouse Press team on a hot July day, truck packed with wool and books for Knitting Camp
(From left to right: Meg Swansen, Tami Robus, Michelle Wolfe, Eli Swansen, Cully Swansen, Eleanor Haase; image by Eli Swansen)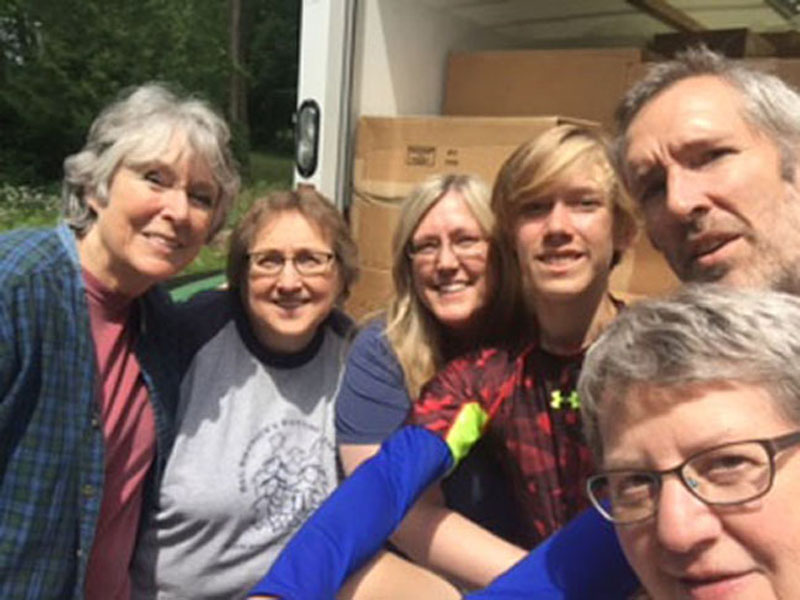 Eleanor Haase, a familiar name to many Schoolhouse Press customers and Knitting Campers, retired in December of 2017. Here is Eleanor's history: During Elizabeth Zimmermann's semi-retirement, Eleanor became Meg and Chris Swansen's office manager. She worked alongside Meg and the SHP team for over 35 years, processing and fulfilling orders and stocking books, wool, and tools, as well as answering technical knitting questions and helping to administrate Knitting Camp. We can count on one hand the number of times Eleanor missed a day of work. She added calm and consistency to the day-to-day operation. We miss Eleanor, but she has more than earned her retirement and remains a part of the Schoolhouse Press family.
Fun Fact: Eleanor lived in a dome house and was Elizabeth Zimmermann's neighbor for many years.
Tami Robus passed away at the end of September, 2018. Many of you knew her as the voice of Schoolhouse Press who helped you with wool orders, knitting difficulties, and Camp questions for 17 years. Tami wore many hats at Schoolhouse Press, including office management, and over the years established great friendships with many of our customers. She was always cheerful and would go out of her way to be as helpful and accommodating as possible. Her customer service was impeccable. She is profoundly missed.
Fun Fact: Tami loved frogs! She was also a craftsperson, whose handmade gifts we all cherish.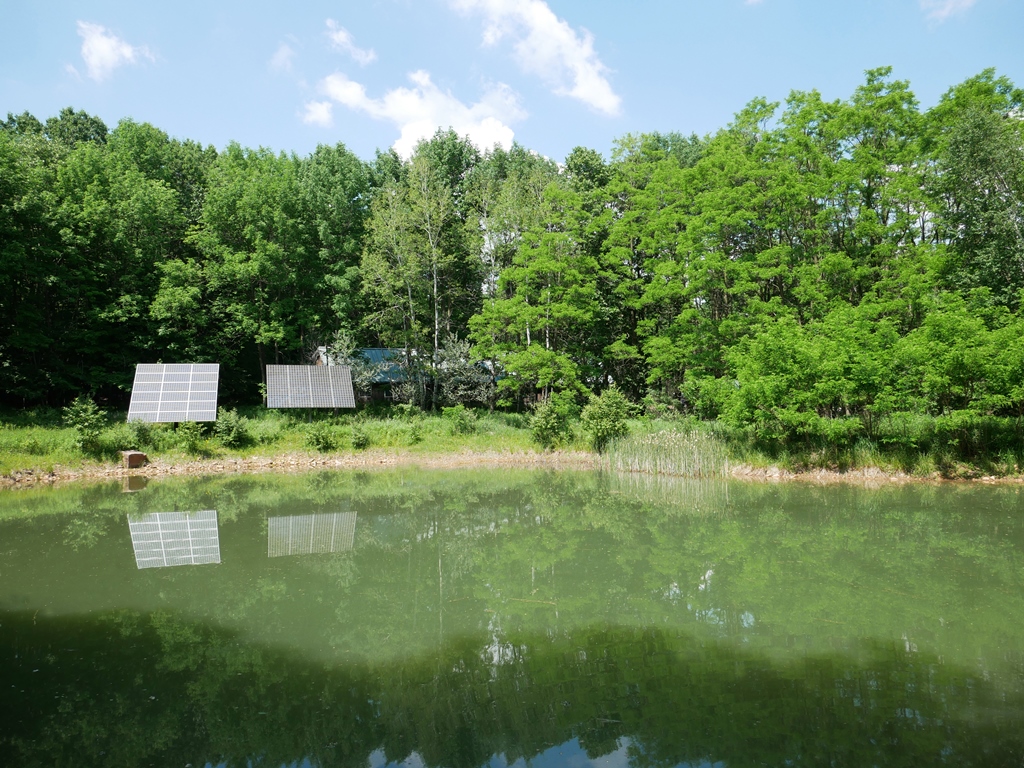 Schoolhouse Press produces 100% of our electricity, with energy to share with the community grid.