About Schoolhouse Press
Schoolhouse Press is a publisher of knitting books, patterns, and instructional videos, the home of Knitting Camp, and a knitting supply business founded in the mid-1950s by British-born master knitter Elizabeth Zimmermann. Today we are a typical small business, run by Elizabeth's family and a few staff members wearing a number of hats. Our focus is on customer service (yes, it's still possible to reach us by phone--800-968--5648) and supplying knitters with books, patterns, wool, and tools we use and endorse.
The History of Schoolhouse Press & Staff
In the 1950s, Elizabeth Zimmermann wanted to supply hand-knitters with pure wool and circular needles (both a rarity in those days), as well as books, tools, and original designs. Elizabeth's humor and unique approach to seamless garment construction gradually attracted followers through her semi-annual newsletter, a steady stream of designs in magazines, two television series taped for PBS-TV, the annual summer Knitting Camp (the first), and publication of her books. Elizabeth's philosophy was received with glad cries by knitters who were eager to think for themselves. By using Elizabeth's Percentage System (EPS), knitters were able to achieve perfectly-fitted garments while applying their own ideas to their knitting. Elizabeth is known for her technique innovations, including I-cord (previously known as idiot-cord, until Elizabeth shortened its name for obvious reasons).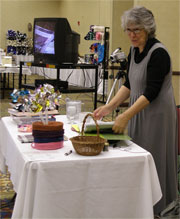 In 1965, Meg Swansen joined her mother in business and in 1981, with Meg's husband Chris, Schoolhouse Press began to publish knitting books and produce instructional knitting videos for both television and home use. The image at the top of the page shows the school bell at Schoolhouse Press. Schoolhouse Press was named when Elizabeth Zimmermann LTD merged with Meg's branch of the business. Both Elizabeth and Meg lived in renovated schoolhouses in Wisconsin and Meg's home became the headquarters of the business. Meg heads the business today and runs our annual Knitting Camp. She writes regularly for Vogue Knitting and continues to design and publish, as well as to teach around the U.S. and abroad. Meg is particularly known for her technique inventions (such as the jogless jog in color-pattern knitting) and her broad knowledge of knitting which she passes along through videos, at Knitting Camp each summer, and over the phone to those who query Schoolhouse Press. Customers of Schoolhouse Press are often surprised to hear Meg's voice on the other end of the line and to receive expert technical advice directly from her.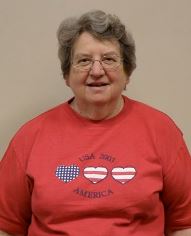 Eleanor Haase, another familiar voice to many Schoolhouse Press customers and Knitting Campers, retired in December of 2017. Here is Eleanor's history: During Elizabeth Zimmermann's semi-retirement, Eleanor became Meg and Chris Swansen's office manager. She was part of SHP for over 35 years, processing and fulfilling orders and stocking books, wool, and tools, as well as answering technical knitting questions and helping to administrate Knitting Camp. We can count on one hand the number of times Eleanor missed a day of work. She added calm and consistency to the day to day operation. We will miss Eleanor, but she has more than earned her retirement and will always remain a part of the Schoolhouse Press family.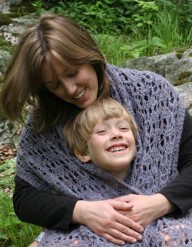 In 1999, Michelle Wolfe, Meg's daughter-in-law, joined the Schoolhouse Press team. Though she considered herself temporary help because she was not a knitter, she remained with the company and even learned to knit. Her role has expanded through the years to include business organization, web management, product development, publishing, and Knitting Camp and workshop administration. (Throwback picture with Eli Swansen, Michelle & Cully's son and a Knitting Camp helper. Michelle is wearing Meg's long lace shawl from Vogue On the Go: Shawls.)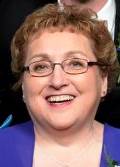 In Memory of Tami Robus, our long-time Office Manager and the voice of Schoolhouse Press
We are deeply saddened over the loss of our extended family-member, Tami Robus, who passed away at the end of September, 2018. Many of you knew her as the voice of Schoolhouse Press; our Office Manager and Knitting Camp organizer who helped you with wool orders, knitting difficulties, and Camp questions for the past 17 years.
Tami wore many hats at Schoolhouse Press, and over the years established great friendships with many of our customers. She was always cheerful and would go out of her way to be as helpful and accommodating as possible. Her customer service was impeccable.
She is profoundly missed.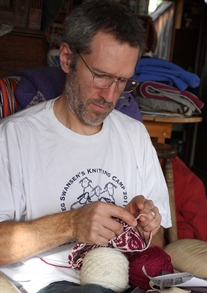 Cully Swansen, Meg's son, began pitching in when he and Michelle moved back to Wisconsin in 1999, literally unloading crates of books and doing all the heavy lifting. Cully's vision led us to build a modest warehouse/office space in 2006 and move just down the hill from Meg's Schoolhouse (our former office). Cully began working as our in-house accountant, but his role expanded quickly to include filming and editing our instructional video material. Filming piqued an already budding curiosity about knitting design and construction, and Cully began designing and publishing his works, as well as teaching at Knitting Camp and Vogue Live. Cully debuted his first cable design in the Winter 2010 issue of Vogue Knitting. His patterns are available through Schoolhouse Press, and he has become instrumental in editing and writing books and patterns such as Meg Swansen's Knitting with Two Colors, Elizabeth Zimmermann's Knit One Knit All, the expanded version of Elizabeth Zimmermann's Knitting Workshop, and in 2016 The Complete Surprise: Knitting Elizabeth Zimmermann's Surprise Jacket, a book that sprung from the design his grandmother first created for him as a baby. In addition, Cully created the EZ Knitting Calculator for Surprise Jackets to calculate row by row instructions for any size baby or adult surprise jacket based on a knitter's custom dimensions and gauge. Cully corresponds with knitters frequently about their technical questions, in addition to writing, editing, and managing the day to day operations at Schoolhouse Press. (Image of Cully designing the Circular Stranded Surprise Jacket, one of the adaptations in The Complete Surprise book)