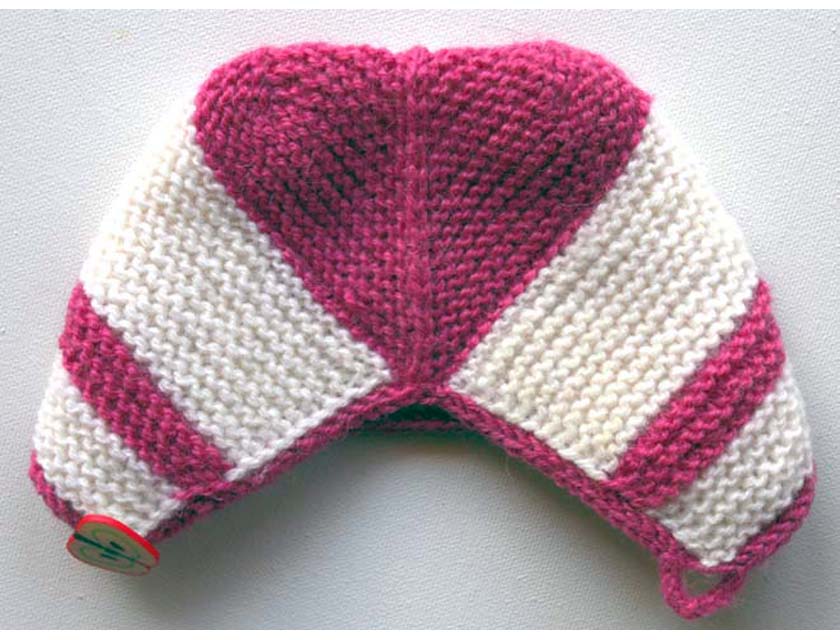 Heart Hand-Warmer
Elizabeth Zimmermann's Garter Stitch Heart maintains its status as a very unique construction, and the list of uses for her Knitted Heart has now grown by one more: A Heart Hand Warmer, appliquéd by EZ onto her square Baby Blanket lap robe.
Decades ago my father bought a Jeep, but the passenger side produced insufficient heat. So my mother knitted herself a good-and-warm 3-ply Unspun Icelandic lap robe. Her legs and feet were snug, but - even though she knitted during all their Winter trips - her hands still got cold. So she cast on a nice large Heart Hand-Warmer, which served its purpose nobly (she had to stop knitting periodically to warm her hands).
I had never seen this blanket, but (her son) Tom discovered it in the old schoolhouse, and delivered it to my sister Lloie a number of years ago. Then - unprompted by the advent of Valentine's Day - Lloie brought it to the office a few days ago, and gave it to Cully. Bingo. It is amazing how EZ's creativity continues to reveal itself after all this time - we thought we knew all her pieces.
Instructions for both the Baby Blanket and its Heart can be found in EZ's book, Knitting Workshop.
The list, so far:
Heart Hat: the heart is knitted up around its edge, and the bonnet knitted on.
Elbow Patch: knit a plain heart in matching or contrasting color wool, and stitch it over the worn elbow.
Pot Holder: knit two hearts in fairly thick wool, and unite them with EZ's Applied I-Cord around the periphery, ending with a loop for hanging up (and maybe some fabric in between).
Pocket: simply stitch along the sides, leaving the top open.
Hand Warmer: as shown in the attached video...
Good Knitting. Meg