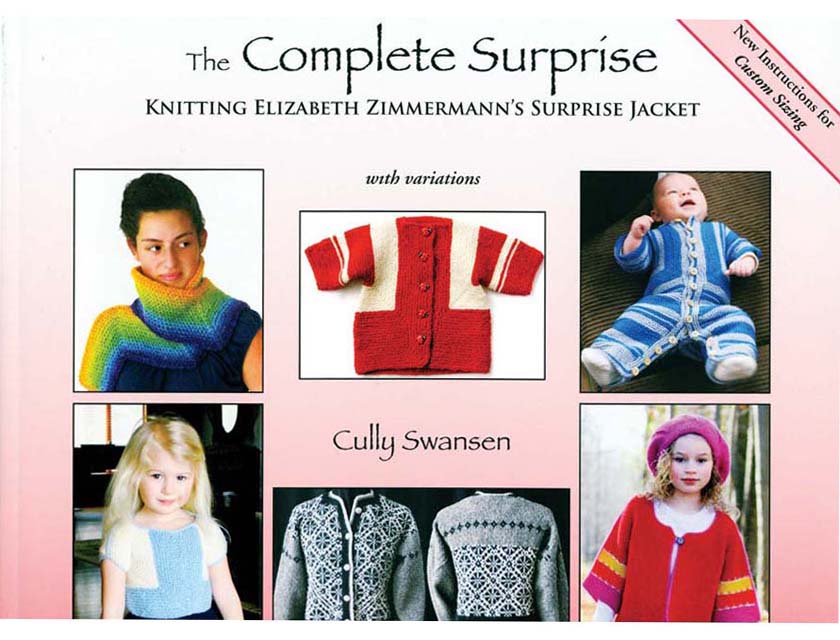 A New Year

As promised last time, we will now concentrate upon American knitters' books, written by some of the knitting community's many extraordinary designers and authors.
I know that new books get most of the attention, but my mother, Elizabeth Zimmermann, and I made a point of carrying books that had depth and substance, into which knitters could sink their teeth. So, from that standpoint, please go beyond the "New" category on our website, and take a look at many of the classic books that are still available.
As we know, books are liable to go out of print with no advance notice.
When travelling, the practicality of electronic books is undeniable. But when settled into your knitting chair, there is something immensely gratifying about perusing a physical book.
In spite of our present January thaw, we Wisconsinites know that there is plenty of winter remaining, and I cherish and count on my book collection to help me through to spring.

I have divided today's collection into New Books (published within the past year and a bit), Hidden Gems (a few excellent books which you may have overlooked), and Non-Instructional Knitting Books which are still about knitting (plus one that features a certain knitter).
New Books:
(P.S. I include In the Footsteps of Sheep by a Scottish author because the book is published in the United States.)
Norah Gaughan's Knitted Cable Sourcebook, A Breakthrough Guide to Knitting with Cables and Designing Your Own. I have admired Norah Gaughan's designs for decades, and think of her as the Queen of Cables. This book presents more than 150 cables (many of which are original to the author) - each with a photo, chart, and verbal instructions. We also are given 15 of the author's own imaginative designs for pullovers and hats, plus a cardigan, skirt, afghan, poncho, vest, scarf, and wrap.
The Joy of Color, indeed! It is difficult to imagine a time when the author, Janine Bajus, was not a two-color knitter. But she is a truthful woman, and swears that when we met at Knitting Camp in 1998, she had never before knitted a Fair Isle garment. Janine is a master of color and swatching is the key. Over many years Janine has developed a unique and superior set of instructions which simplify the daunting task of - not only selecting, but placing the different colors. We also get to see eleven splendid examples of finished garments, all designed and knitted from scratch by her skillful pupils.
Good Measure, Knit a Perfect Fit Every Time, Deborah Newton. The author is one of our american treasures, and is a wellspring of valuable knitting information. She concentrates upon the countless details that all come together to make a properly fitted garment. Plus a bonus of more than 20 new designs of Deborah's, each with intriguing and meticulous features.
Sequence Knitting, Simple Methods for Creating Complex Reversible Fabrics by Cecelia Campochiaro. This lovely book, elegant in its simplicity, is causing an enthuiastic stir among knitters. With 190+ stitch patterns (helpfully photographed on both front and back), plus instructions for 47 scarves and caps, you are set on an endless path of texture possibilities. (P.S. In the accompanying video, I had meant to say that there are a number of 2-color designs as well.)
In the Footsteps of Sheep by Scottish author Debbie Zawinski, published in the United States by Schoolhouse Press. The author set herself a mission: to travel (mostly walking) and camp throughout Scotland, find cast-off wool from each of 10 Scottish breeds of sheep (Shetland, Scottish Blackface, Hebridean, Boreray, Soay, North Country Cheviot, North Ronaldsay, Castlemilk Moorit, Bowmont, and Cheviot), spin the wool on her drop spindle, and knit ten pairs of socks. She has written beautifully and movingly about her journey; the sheep and people she met, weather both foul and fair, and an intriguing island of feral sheep. The sock patterns at the end of each chapter are a bonus, and all were test-knitted with commercial wools. The author's stirring photographs and prose that are particularly captivating. An Audio Book also available; read by the author.
The Complete Surprise, Knitting Elizabeth Zimmernann's Surprise Jacket by Cully Swansen. This book opens up new realms of possibility for Elizabeth's Surprise Jackets. Cully has developed sizing directions so you can knit a Surprise Jacket in any size, with any wool, at any gauge. Among other bonuses, this solves the narrow upper-arm issue which had plagued the Adult Surprise Jacket. New knitters are guided through a Surprise Scarf, to familiarizes them with all the techniques necessary to knit their first BSJ. For experienced knitters, there is the challenge of the Circular Stranded Surprise Jacket, as well as the Surprise Dress, the Bolero, the Snuggle Suit, plus more. For those who want to avoid math altogether, Cully has created the EZ Knitting Calculator for Surprise Jackets: An online device where the knitter enters 3 dimensions (body width, armhole depth, and gauge) to obtain a printout of row-by-row instructions. The Calculator works for Surprise Jackets of any size at any gauge. Digital product (online)
Hidden Gems:
(P.S. With apologies: I misspoke in the video when giving the location of the Vesterheim Museum: It is in IOWA... not Ohio. I tend to mix up those 4-letter states.)
Knitting Tams: Charted Fair Isle Designs by Mary Rowe. The author's inspired designs are glorious knitted jewels. A total of 17 new pattern charts with colors Mary chose from our 250+ Shetland Spindrift shades. Naturally, you are encouraged to use your own color inclinations as you seek to learn more about harmonizing combinations. (This is not a reprint of Mary's original Tam book, which is out-of-print.)
Arctic Lace by Donna Druchunas. This beautiful book fills a large gap in our lace-and-fiber history as the author provides a history of Alaska's knitters - with dozens of wonderful photographs. Information on the founding of the Oomingmak Co-op, comprised of native knitters who produce stunning knitted items from Qiviut. There is an extensive How To Knit section, plus lace charts and about 15 projects -- from vests to fingerless gloves; scarves, hoods and hats.
Norwegian Handknits by Sue Flanders and Janine Kosel. I simply melt when I encounter such a beautiful book based upon traditional Norwegian knitting. There are over 30 designs for mittens, socks, scarves, hats, wristers, handbags, snapsacks and sweaters. Plenty of photos and charts. (P.S. With apologies: I misspoke in the video when giving the location of the Vesterheim Museum: It is in IOWA... not Ohio. I tend to mix up those 4-letter states.)
Knitting Books about Knitting (Non-Instructional Knitting Books and other):
People Knitting, A Century of Photographs, Barbara Levine. A wonderful tribute to knitters! 100 photographs, from the 1860s to the 1960s, reflect the enormous diversity of our knitting family. There is no text, per se, but a number of quotes – including one from EZ on page 70. All photos are documented in an Index at the end.
Knitting Ephemera, A Compendium of Articles, Useful and Otherwise, for the Edification and Amusement of the Handknitter, Carol J. Sulkoski. As stated by the title and subtitle: Chock full of bits of trivia from history, literature, folklore and pop culture. The sheer volume of data is overwhelming...take just a few pages at a time. I was surprised and pleased to find one and a half pages devoted to quotes from Elizabeth Zimmermann.
I Dream of Yarn, A Knit and Crochet Coloring Book, Franklin Habit. Many of us are familiar with Franklin's charming drawings and cartoons. Here are 35 full-page illustrations for us to color with pencil, crayon or watercolor. (I've already done two pages on my copy.)
Dead Feminists, Historic Heroines in Living Color, Chandler O'Leary & Jessica Spring have chosen the following remarkable women to honor: Elizabeth Cady Stanton, Fatima al-Fihri, Gwendolyn Brooks, Eleanor Roosevelt, Alice Paul, Thea Foss, Annie Oakley, Adina De Zavala, Rachel Carson, Imogen Cunningham, Sadako Sasaki, Elizabeth Zimmermann, Virginia Woolf, Rywka Lipszyc, Sarojini Naidu, Harriet Tubman, Washington State Suffragists, Shirley Chisholm, Babe Zaharias, Marie Curie, Sappho, Emma Goldman, Jane Mecom, and Lili'uokalani. I am so pleased and proud; wouldn't EZ be startled!
To quote some of the rave reviews:
"...a history of women, by women. Dead Feminists fills the gap in our knowledge of the important women who have helped shape our past and present."
"...a profound and super-smart look at feminist craft, creation, and collaboration..."
"...takes feminist inspiration to a new level of artistry and shows how ordinary and extraordinary women have made a difference throughout history…"