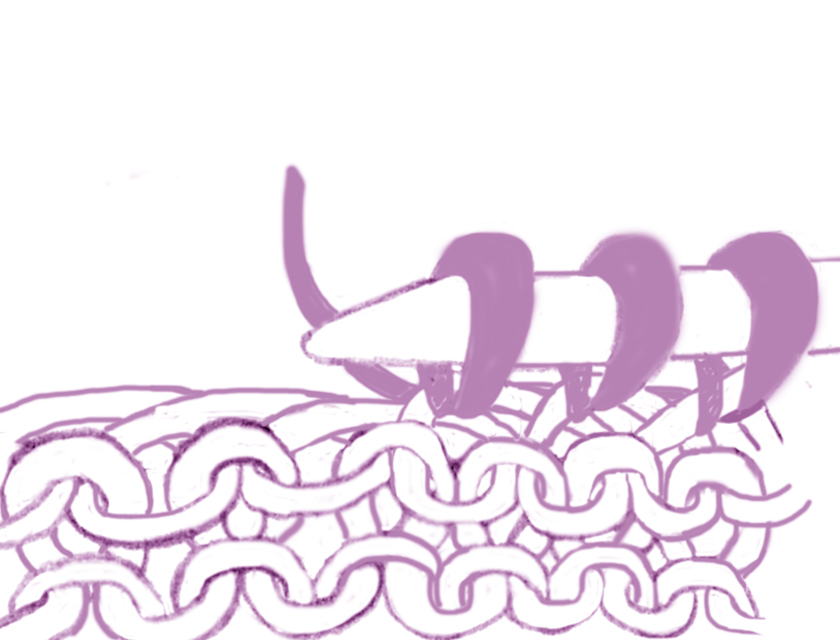 Sleeves!
As in most aspects of knitting, sleeves provide you with many options. They may be knitted up from the cuffs, or down from the armhole. The shaping can take place at the underarm as usual, or may be worked on the sleeve top which will angle the sleeve down from the body in a more anatomical manner.
The actual decreasing or increasing can be calculated quite simply: subtract the stitch count at the cuff from the stitch count at the armhole and divide by the length of the sleeve. This gives you the number of stitches to get rid of, or to add in each inch of the sleeve. Unless you want an angled shaping line, remember to inc/dec in pairs of sts for a straight line. Depending upon the rate of inc/dec, the sleeve may be tapered, belled, or bloused.
Occasionally, due to miscalculation or a growth spurt, you may need to add length to a sleeve.
Note: It may also be that you need a deeper sleeve, in which case you could re-block the sweater, stretch the damp sleeves deeper, which will simultaneously make them shorter, necessitating lengthening.
If the sleeve was worked down to the cuff, you can simply rip out the cast-off and continue knitting. If you worked up from the cuff, you will need to snip half a stitch above the cast-on (or above the ribbing) and un-pick a round of stitches.
An exception to the above is Garter stitch - in which you are able to knit-up from a specific cast-on selvedge and invisibly add length. This short video deals specifically with lengthening garter-stitch sleeves. Once Elizabeth stumbled upon this truth while designing her amazing Heart Hat, she realized it could be applied to re-design her Baby Surprise Jacket into an Adult version with long sleeves.
Speaking of Elizabeth and garter stitch (!), Cully and I recently finished taping a full-length video focused upon EZ's Tomten Jacket, in which the "right side" of Long Tail Cast On is discussed with lengthening in mind. Knitter's requests for this instructional video happily coincided with my eldest grand-daughter's request for a "grown-up" Tomten, so we taped every detail of my progress on the jacket I knitted for Cecilia: from sizing and cast on, to final blocking.
Let us all continue to hang on, brace ourselves for Winter '20/21, and be grateful that we love to knit.
Meg