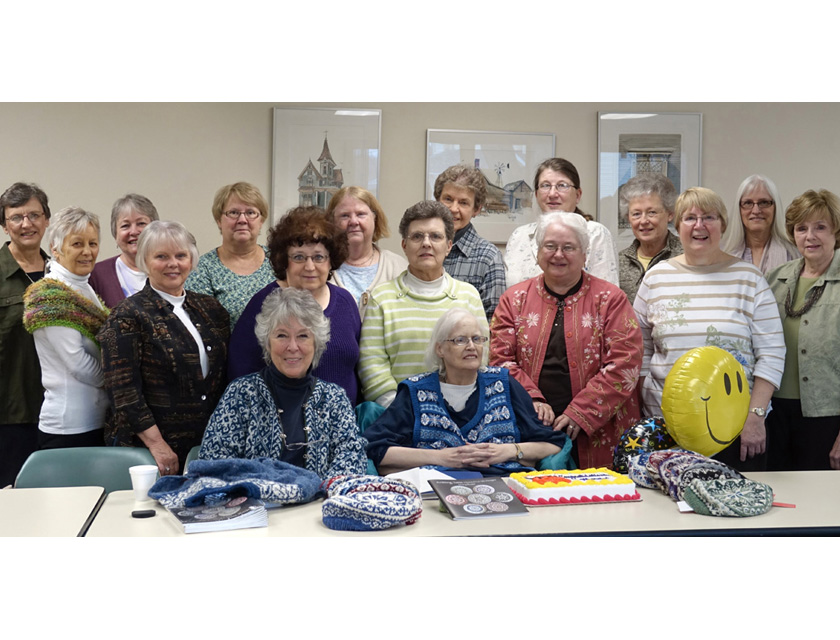 Knitting Community, Remembering Mary Rowe
It was only last month that we announced the availability of four lovely new tam patterns Mary Rowe had designed and knitted to celebrate her book moving to a digital format. Shortly thereafter I received a call from Mary's daughter that her mom had passed away.
Mary was a former Librarian, and an early and frequent attendee to our Knitting Camps. Her sweater designs appeared in both Knitter's and Knitting World magazines.
Her first book, Knitted Tams, was published by Interweave Press in 1989. After it languished out of print for many years, we realized what a hole it left in available knitting books, and encouraged Mary to write a follow-up for us, containing full charts and instructions. She did! and designed 17 gorgeous new Shetland tams for her next book: Knitting Tams, Charted Fair Isle Designs.
After multiple re-prints, we shifted - just a month ago - to offering Knitting Tams in digital format. Inspired by a potential new audience of knitters, Mary added 4 new designs to the digital version (and, lest existing owners of her print book felt left out, we made SPP#81 - a stand-alone version of the 4 new beauties).
Over the years we had kept Mary well supplied with Jamieson's Shetland 2-ply Spindrift wools as she continuously experimented with colors and motifs. During our very last two conversations in November, she was excitedly researching new symbols and color combinations she had found in Navajo sand paintings.
I am glad Mary lived to see, and be proud of, her latest work. We feel honored to be able to make her art available to lovers of color-pattern knitting.
Here is a photo of Mary's 2014 New-Book launch party, organized by members of her Knitting Guild in Stevens Point, WI.
Mary's traditional Scottish Tams follow a basic formula. I remember (in my knitting youth) being intimidated by tams, and thought I had to incrementally increase out - then decrease back in again. Actually it is so much easier:
Cast on the lower band to match wanted head-circumference which, generally speaking, is about 19-21" for most adults. You can make it slightly smaller for a snugger fit.
The headband can be plain ribbing of (k1, p1) or (k2, p2). However, I prefer to work corrugated ribbing which matches the stranded thickness and feel of the rest of the tam. And you get to introduce several - or all - of the Shetland shades in the ribbing. Be aware that corrugated ribbing has little (if any) elasticity, so - if using it - be accurate in your circumference measurement.
In the plain round above the ribbing, there is a severe increase, then the tam is knit as a standard hat would be: straight, then shaped at the top. The recognizable tam shape is a result of blocking, not increasing and decreasing - nothing to be intimidated about!
In our latest knitting news, we celebrated the launch of our new website, which features a homepage photo of my granddaughter wearing a Surprise Bolero/Shrug, which is an abbreviated version of EZ's Surprise Jacket, plus EZ's Snail Hat (aka Dairy Queen) which I modified to a tam.
Although instructions for the Bolero/Shrug are included in Cully Swansen's book, The Complete Surprise - and the Pinwheel Tam is in Wool Gathering #95 (along with 7 other hats), we have combined instructions for them both in SPP #82.
The Bolero is worked in single-strand Unspun Icelandic. Unfortunately, a couple of the shades I used are no longer being offered by the mill, but - of course - wool and color choice is up to you.
The Snail Tam is worked in 2-ply Unspun Icelandic, and we still have wheels of Hot Pink available. Important to note is the specific method of increase that must be used to make the spiral's sharp delineation. Refer to my Blog #23 for a video demonstration of the proper m1.