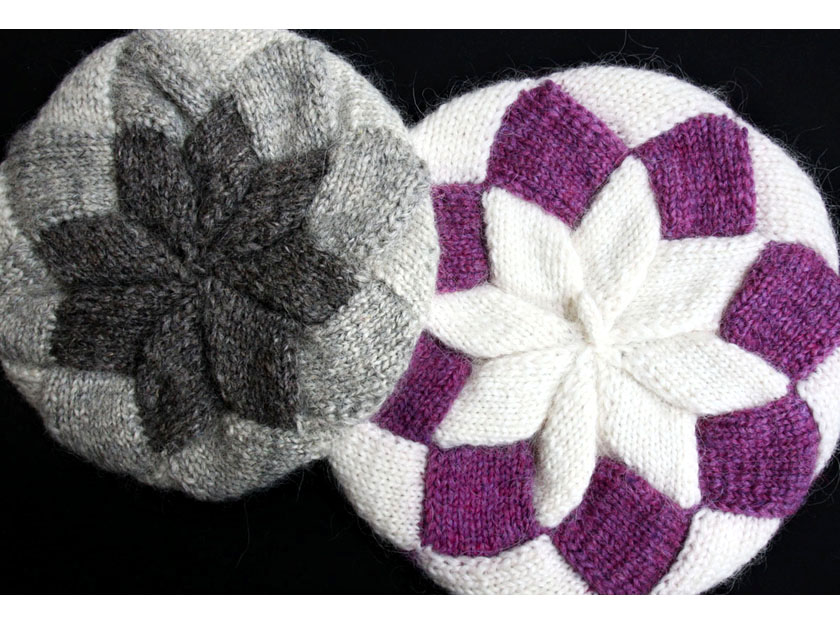 Knitting Backwards (or Knitting Back Backwards, KBB)
When I first learned to knit Entrelac in the early 1980s, this was how I was directed to work the initial set-up-triangles: k2, turn, p2, turn, k3, turn, p3, turn, k4, turn... and so on. More time was spent turning back and forth than actually knitting or purling. Nope, this was not for me...I like to enjoy my knitting.
Then I remembered Knitting Camper Lois Young, who is left-handed and knits all her garments by working stitches from the R needle onto the L needle to produce stocking stitch. Aha, I tried Entrelac again and, although somewhat clumsy at first, I found I could eliminate the turns by using the left-handed approach on the return rows. I had not heard of this method being used previously, and I named it 'Knitting Back Backwards'. It has gained popularity and is now generally referred to as Knitting Backwards (although in abbreviation I still use KBB). See the technique demonstrated in the brief video below, and note that you can keep your working wool in the same hand when reversing direction.
Initially the technique was a bit of a parlor-trick for Entrelac, but I soon found myself using this exceedingly practical skill in a variety of situations. For instance:
- Short rows on the body of a sweater; especially on the yoke, where turning involves the entire bulk of a bottom-up sweater.
- Bobbles on an Aran sweater. Imagine having to repeatedly flip over the entire body just to zip back and forth on 5 stitches for 4-6 rows! Elizabeth has a wonderful Aran sweater with bobbles in The Opinionated Knitter (originally her Newsletter #6).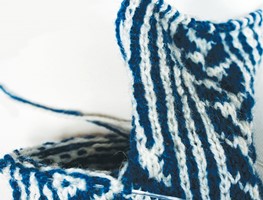 - The heel flap on socks. The photo above shows the patterned heel of one of my Arch-Shaped Stockings; once you are comfortable Knitting Backwards, you are ready to start practicing it in color-pattern.
- Cables. On our Knitting Camps/Retreats page, I offer a free Cable Hat pattern, in which I take advantage of Knitting Backwards while producing the horizontal cable band of the hat.
- The aforementioned Entrelac; specifically SPP#39, which has wonderful explanatory diagrams.
- On the Aran Coat in EZ's Knitting Around, I worked the epaulets back and forth; an opportunity to figure out how to work a twisted stitch and a cable in the KBB mode.
A word about Gauge: My gauge fluctuates dramatically when I knit over and purl back. However, when I knit forward and backward, the gauges match. Keep a sharp eye on your fabric.
I encourage you to view the demonstration video above, cast on and knit a few rows alternating with Knitting Backwards. Perhaps 'riveting' may be too strong a word for this possibly new-to-you technique, but I find it quite exciting!
Meg