Dear Knitter,
A series of recent in-coming questions all dealt with neck-shaping, and I sensed a theme. Perhaps the following Q&A might help you as well. The last question deals with wool/pattern/gauge decisions; always a pertinent topic.
Q: Could you please direct me to the pattern or book where Meg has modified her Mom's percentage system to raise the back neck with short rows that start on the front? I saw Amy Detjen talk about it in a 'Fruity Knitting' episode and can't seem to find one with this in the description. I have all of Elizabeth's books and love them. Hope you can help find which one. I have the Henley yoke in the shopping basket; can you clarify if this has that short row shaping?
A: Dear Suzi, The Short Rows Amy mentioned (@ the base of the yoke) are my variation, and are not in any of my mum's books (except for an Editor's Note in the updated edition of her Knitting Workshop). Yes, there are instructions for SR worked at the base of the yoke - plus a few more sets at the yoke-top - in WG 106, for the Henley Fair Isle yoke pattern. And there are several photos showing different SR placements at the yoke-top. After reading (or while knitting) WG 106, please let me know if you have additional questions.
Q: Hello, Can you advise if the Gansey sweater in WG#76 also includes option of crew neck. It's a bit breezy in North Wales! Thank you.
A: Thank you for your enquiry Jackie. Below is a photo of the slightly scooped-neck on that design.
There are no specific instructions for a crew neck, but you can turn it into one, as follows: Do not shape the neck-edges as you knit the garter-stitch shoulders, then pick up around entire neck and knit whatever border you like for a crew (ribbing?). And I recommend that you make the base of the neck a bit higher up on the body - and wider (for a square shape) which will round itself when you knit on the neck border if you do not dbl-dec @ the corners. I'll also enclose a photo of Eli's little Guernsey - with a narrow boat-neck that may work for you.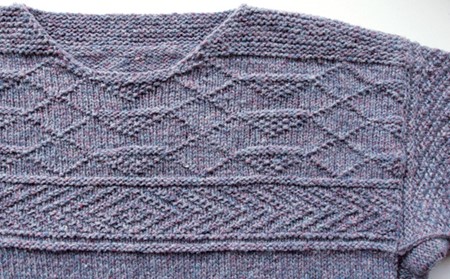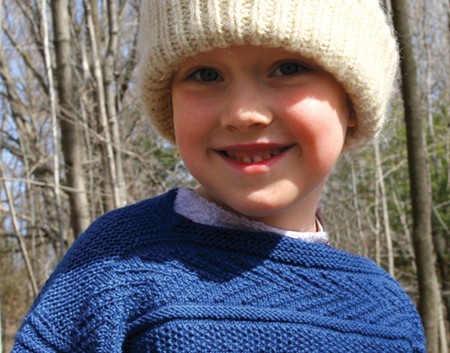 Q: Hi, I am knitting an adult Tomten and I just finished doing the fronts (40 ridges) and back. But now I see that I was supposed to only knit fronts to 9 rows shy of desired height so do I now pull out the last 9 rows? Like I should have only knit 31 ridges?
Right now the fronts and back match up but if I start the decreases now on fronts they'll be taller than the back. I hope this makes sense!
A: Dear Elizabeth, I gather that you are not going to knit a collar or a hood, but want the shaped cardigan-neck… yes?
Without knowing your gauge or size (or which instructions you are following; I am looking at page 43 in The Opinionated Knitter), I trust your readout of "...knit fronts to 9 rows shy of desired height…".
Yes, rip back those last front ridges to enable you to shape each front side for a cardigan neckline. It will be filled in a bit when you add a 2 to 4 ridge border around the entire front opening. Or, if the neck scoop is just the depth you like, you can trim the final edge with I-Cord, which will not fill in the neck opening.
Does that make sense? Knit (but first rip) On…
Q: Hi, I want to make the sweater on page 6 of EZ's The Opinionated Knitter, and I would use the Regal wool. I can't seem to do any better than 5 stitches to the inch, and she says 6 to the inch. I even used 3 size needles! For now, I would order the wool for the main body, and then the wool for the yoke, because I don't know what colors to get. I need to get another knitting project going. The last was my adult surprise jacket and it turned out perfectly thanks to Cully's directions.
A: Dear Judy, To get a gauge that matches the 6-sts-per-inch instructions, our Shetland Spindrift wool would work beautifully (typical for Fair Isle sweaters).
On pages 12-13 of the Opinionated Knitter are different colorways of the same chart by other knitters. All of those are in Shetland Spindrift except the one on the top of page 12; that is worked in heavier wool - with the necessary stitch adjustment. The pattern is for a pullover; if you want a cardigan, you will have to plan in advance and add extra sts at the center-front for a steek.
As for wool amounts: For a pullover @ about 38-40" body circumference, in Shetland Spindrift wool, you will need about 10-12 balls of the main color, and likely only 1 ball each for most of the color-patterns (maybe 2 of the most-used color).
The Canadian Regal is best worked @ about 4.75 - 5 sts per inch, and the results will be beautiful, but not as delicate as Shetland. For a 38-40" body @ 5 sts per inch, you will need about 5-6 skeins of the main color, and have enough leftover from 1 skein of each yoke color to make a matching hat - plus maybe even mittens...
Generally Speaking,
Knitters are well aware of the critical importance of gauge when knitting and fitting a sweater.
However, when you have found the perfect wool and the perfect sweater-pattern…but each requires a disparate gauge; what to do?
I first look at the perfect sweater design with a critical eye to discern what drew me to it in the first place. Is it the style? the color(s)? the drape?
Can you maintain any or all of those requirements in the different gauge of your perfect wool?
Then consider your perfect wool, and knit up a swatch in the color-combination, or texture of the perfect sweater. Will you be able to achieve the elements you love in this weight wool, plus these colors, and drape?
Depending upon results, you will either have to seek out a different wool that yields the required pattern gauge, or re-work the pattern-numbers to suit the gauge of the perfect wool in order to get the size you need, or find another design where the gauge matches your perfect wool.
Re-working pattern numbers can be less intimidating than it may sound. For example if the pattern numbers are based on a gauge of 6 sts/inch, but you want to knit it at 5 sts/inch, here is the basic premise of a transformation:
For a cast on number of 260 sts in the size you wish to knit, divide that number by the pattern's gauge of 6, which yields 43.33 - then multiply that by your wanted gauge of 5 to get 216.66, so cast on 216 instead of 260.
Go through the entire pattern this way beforehand, to make sure all the numbers can be reasonably re-worked. You should be able to then knit it at your wanted gauge.
Good knitting,
Meg